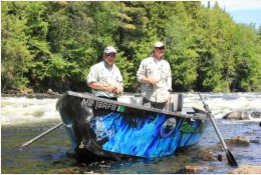 Fishing on Moosehead Lake is a quintessential activity for any Maine summer vacation. Every year, anglers from all over the region immerse themselves in the scenic beauty offered by the forested hills and majestic waterways that exemplify this great state. Whether you are a novice fisher or an avid angler, we recommend looking into the advantages offered by Maine fishing guides. Even if you've spent time around Moosehead Lake and Mount Kineo, you'll still reap the benefits of being guided by a local master.
4 Good Reasons to Hire a Maine Fishing Guide
As much as we share appreciate the stoic, can-do mentality held by many fishermen and women, finding fish and catching fish are two different things. Baits, lures, and techniques that have been successful in the past can't guarantee a bountiful harvest on the next outing. Being on unfamiliar waters will only exacerbate that notion. To help show you the advantages of hiring a Maine fishing guide, we've put together four good reasons to do so.
All They Do is Fish
We may be exaggerating a bit, but there is undoubtedly some truth to it. Maine fishing guides have a great deal of pride in helping create timeless memories for their clients. Think of how much pressure you've had while fishing with someone at your favorite hotspot. Before the outing, you likely boasted of a personal best catch or a max limit. However, once you got them in your boat, the pressure was on to recreate your epic day on the water. Fishing with a guide takes all that pressure away.
Learn from a Local Master
Most of what we learn from fishing comes from trial and error. The first step in developing your skills is acknowledging that you don't know everything about fishing on Moosehead Lake. What draws us to fishing is the challenge and the thrill of overcoming it. If fishing were easy, there would be fewer people doing it. Maine fishing guides will show you tried and trusted techniques that will surely help you later in life. The biggest take away here is to keep an open mind and ask questions.
Less Gear Equals Less Hassle
It's tempting to bring all of your gear with you on a fishing outing, but most times, it isn't necessary, especially with a fishing guide. You might think you need every spinner, jig, and fly in your tackle box. However, it is much easier to limit yourself to only what you need, and your guide will have you covered with everything else. With less gear to concern yourself with, you'll have more focus on catching fish, and you won't have to keep track of your entire arsenal.
Build Rapport with an Elite Angler
Finding a fishing guide that you like isn't too hard. But, building a relationship is worth the extra effort. By creating a good rapport with a local master will help you down the road. For one, you'll likely become a preferred customer. There is a good chance that you'll want to recreate that experience time and again after you've been out with a guide. Share your guide's business cards with friends and family and make sure they let the guide know you referred them.
Cabins in Maine on Moosehead Lake
While there are plenty of cabins in Maine to choose from when planning your summer vacation, you'll want a well-established operation. For over 150 years, Wilson's on Moosehead Lake has served as the basecamp for many outdoor adventures, from fishing and hunting to wildlife photography and hiking. For more information on how we can facilitate your Maine summer vacation, please contact us online or call 207-695-2549. Don't forget to ask about our specials!