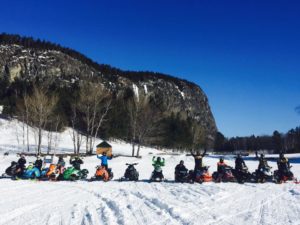 Visit Mount Kineo State Park in Moosehead Lake, Maine
When you visit Moosehead Lake, you'll be surrounded by breathtaking scenery throughout your stay. Picture curving shorelines of emerald pines as your boat cuts across the clean, glassy water. That's the environment you'll enjoy while landing an impressive catch under the crisp northern sun. One of the most beautiful places in Moosehead Lake is Mount Kineo State Park. You can only get to this island paradise by water, or ice in the winter. This is everything you need to know about visiting Mount Kineo from Wilsons on Moosehead Lake.
The Journey to Mt. Kineo, Maine
Mount Kineo is a must-see for most folks visiting our slice of paradise, and the journey to the island is half the fun! Of course, you can plug it into Google Maps and take the incredibly scenic drive around Moosehead Lake. However, you probably won't be able to drive the entire way! Moosehead Lake itself is the ideal way to travel. If you're bringing a boat from home, you can drive it out to the island for a fast and convenient mode of transportation. But don't worry if you don't own a watercraft, for our Moosehead Lake boat rentals are affordable and reliable. We'll even provide a guide if you would like to go for a lake tour to and from Mount Kineo. There is also a ferry from the Rockwood, Maine, docks that runs between Memorial Day and Columbus Day.
What to Do on Mount Kineo
Once you've completed the trip out to the island, Mt. Kineo, Maine, offers plenty of recreation opportunities. You can hike, canoe, golf, and practice photography year-round. There are two Maine hiking trails on the island. Bridle Trail is long and leisurely—perfect for a slow and steady trek. Indian Head Trail is a bit steeper than Bridle Trail, so it's suitable for those who want a workout. Neither trail is difficult, and each is well marked. It's one of the best mountains to hike in Maine, for people of all ages can make it to the top! You'll find a 360-degree view at the summit of Mount Kineo, so be sure to bring a camera.
Before or after the hike of a lifetime, stop at the golf course for a lovely game with a view. You can play nine or 18 holes, depending on your schedule and preference. Then, return to your comfortable cottage for a hearty meal and a full night of rest.
Moosehead Lake, Maine, Cabins near Mount Kineo
Wilsons on Moosehead Lake is the premier provider of Moosehead Lake, Maine, cabins. Our elegantly rustic cottages are right on the shore, so you'll have access to the pristine lake morning, afternoon, and night. Plus, there are countless things to do in our neck of the woods! Contact us to plan your Maine adventure.